How it all began…
In 2017 I was diagnosed with Stage 4 Lung Cancer.  After multiple surgeries, chemotherapy and radiation, I was no longer able to continue my work as a Software Engineer.  For Christmas in 2020 my family and I decided we would make our Christmas gifts for each other, and I chose to make the wooden ducks my Father "Pat" had made as gifts for family and friends when he retired. Pictured below are my Father's original ducks.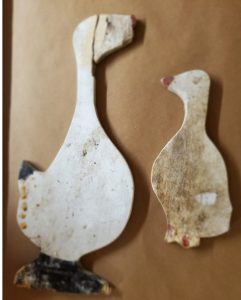 I had many requests from friends who saw my ducks and wanted a pair. Since I have always enjoyed working in my shop. I decided to "pay it forward" and start a non-profit charity by selling these ducks and donating the proceeds to support people who were undergoing treatment for Cancer.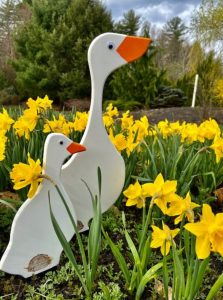 All of the ducks are handmade from quality pine and cut, sanded and shaped by hand. Each duck is painted with two coats of paint (primer and exterior paint). No two are exactly the same. All ducks have a "my lifetime" guarantee. To the dismay of some I still use the same googly eyes my Father used.
Please wait a second… Below is a list of all the duck owners